Roadie – Stunning 7 Year Old Male Tuxedo Tabby Cat Seeks Loving, Only Pet Home Near Oakland, CA – Supplies Included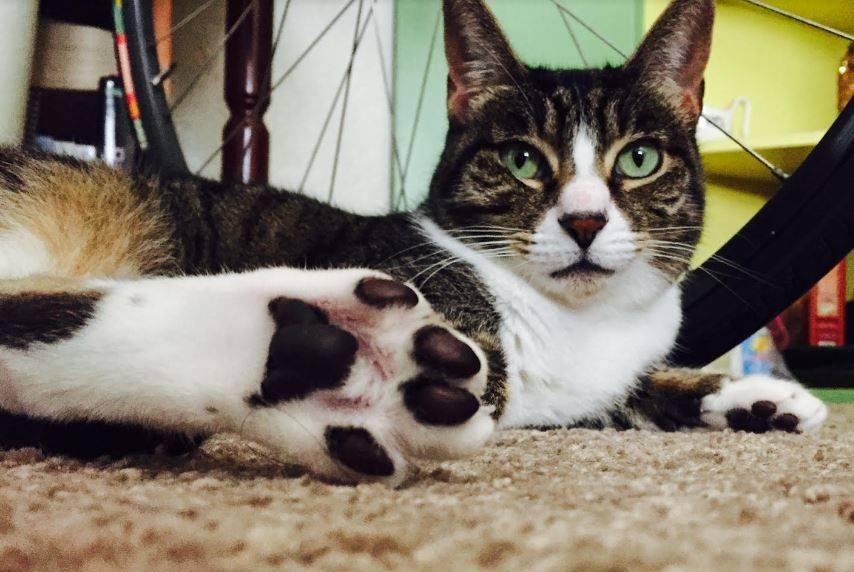 Hi, My name is Roadkill!
Request to Meet Roadkill Here!
There is a $40 adoption/rehoming fee. All supplies will be included.
Location: Oakland, ca, 94601
Type of Pet: Cat
Breed: Short haired tabby
Age: 7 years
Color/Coat Type: short haired tabby
Size: 15 lbs
Health Issues: no
Behavior Issues: some
Roadkill is:
Neutered, Litter Trained
Roadkill gets along with:
Older Children, Adults Only
Personality
Roadkill, (aka Road, Roadie, Road Baby) 7 year old, fixed male tabby. He comes from the streets of Oakland. Found literally in the middle of MacArthur Blvd when he was 6 weeks old. He has lived indoors only since then. He longs for an outdoor life in a quiet suburb but would be happy in a pet free environment where he gets all the attention. He loves to play with string and foil balls. He is very food motivated. You'll have to watch out if you open a bag of chips… Tortilla is his favorite. He is very friendly and inquisitive and loves to be all up in the mix of things. He's pretty calm most of the time and is happy to sleep in a comfy spot but he does enjoy laying in someone's lap as well. He is a big fan of cat shelves and tall towers.
He can get a little feisty when cornered or when he needs his nails clipped.
Reason For Rehoming
I actually have two cats, Favah, fixed female, 7 years and Roadkill fixed male, 7 years. Both indoor only their whole lives.
My husband and I had a baby back in June and the issues that started when I was pregnant have gotten worse and worse. Prior to the baby, my cats Favah and Roadkill both started peeing outside of the litter boxes, basically only in the bathrooms… Favah particularly in the sink. After lengthy and costly vet visits, it turns out that stress was causing the peeing.
At the suggestion of the vet, I switched the cats to wet food, bought feliway, gave pain medication etc… all to no real improvement. From what I know of cats, they wanted more attention than they were getting. We put up cat shelves and played with them more but things just kept progressing. Roadkill began spraying in the roommates rooms at this point… basically every room in the house.
We live with two roommates, one of whom has a small dog. There are no visible conflicts or fights between the cats and the dog but I'm sure there's some territorial stuff going on. Unfortunately I had a difficult recovery from the birth and am unable to give Roadkill and Favah the attention they need to live satisfying lives in our house.
We even hired a cat behaviorist to come and see what could be done. At this point we are out of time and money. They are good cats, they just need more time than we are able to give with the baby. Also our roommates are pretty upset with us.
If you would like to consider offering Roadkill a loving, forever home, please fill out our Request To Meet A Pet form here:
http://pet-net.net/adopt-a-pet/
Once received, we will contact you to discuss your request and set up a mutually convenient time to meet Roadkill and their owner in their home.