Purebred Female Balinese Cat For Adoption in Henderson, Nevada – Adopt Marzipan Today
Hi, My name is Marzipan!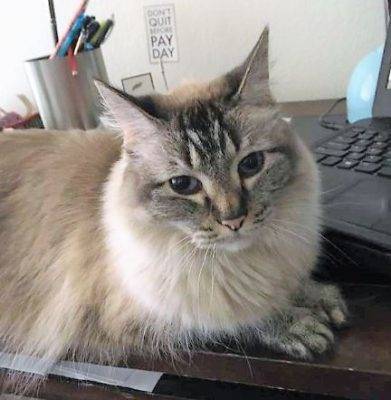 I am a grays and whites Female Balinese Cat. I am 12 and weigh . I live in HENDERSON, Nevada.
Her loving manner; the way she cuddles; her 'talking' to me, her eagerness to be near me.
Request to Meet Marzipan Here!
There is a $50 adoption/rehoming fee. All supplies will be included.
---
All About Marzipan
Name of Pet:
Marzipan
Location:
HENDERSON
, Nevada, 89012
Type of Pet:
Cat
Breed of Pet:
Balinese
Sex of Pet:
Female
Age of Pet: 12
Spayed/Neutered?:
Health Problems: No
Up To Date on Vaccinations:
Gets along with cats: Yes
Gets along with dogs: Yes
Good with Children?: No
House Broken or Litter Trained?: Yes
Crate Trained?:
Accessories Included: Cat box, litter and food and water dishes.
Marzipan's Personality
Her loving manner; the way she cuddles; her 'talking' to me, her eagerness to be near me.
Marzipan's Current Home Environment
Me and another cat in a 2 bedroom apartment
Marzipan's Current Family:
Marzi was my daughter's cat since 2008. When my daughter went to college, the cat came with me. I am now retiring to Florida and I cannot have 2 pets. Marzi is the most social and will adjust to another family/person and environment.
Marzipan's Favorite Toys, Foods, Activities?
Toy mice, balls of string, swatting toys at the top of her cat tree. She will play hide and seek and jump out at you and bat at me with her paws like a boxer. She eats Costco dry cat food only.
Cute Marzipan Story:
She "escaped" when she first moved in with me. I was heartbroken because she is declawed and I thought she wouldn't be safe from other animals. She was gone 8 days – I looked for her all those days. She finally came out from under a bush meowing like crazy at me. She was dirty and wet, but safe and sound.
When I had a dog, she would wait for the dog to come around the corner and jump out at her. She would pounce on the dog from the counter and then smack the dog's tail until the dog would play with her. They would chase each other all over the house.
Why is Marzipan Being Rehomed?
I am moving to Florida and I can only have 1 pet. My other cat is not social, and when I am away more than a few hours "pines" and hides. Cindy hides when others come to visit, even family members. I think she would die without me. Marzi loves people and will make friends. She doesn't mind when I leave her with a "babysitter" at all. I think Marzi will adjust much easier than Cindy. I hate to rehome her, but I don't have another choice.
Marzipan's Perfect Adoptive Home Will Be:
I imagine an older person that needs a companion. Marzi will be a good companion.
Additional Comments:
Request to Meet Marzipan Here
Oops! We could not locate your form.