Magnificent Orange Tabby Cat For Adoption in San Diego CA – Adopt Pete Today!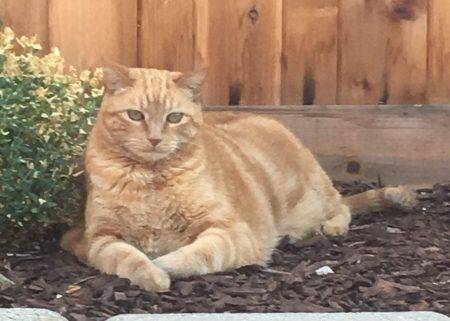 Hi, My name is Pete!
Giant 21 pound orange tabby cat for adoption in San Diego, California. Pete is fixed, up to date on shots and very healthy. He is a very smart cat with a loving personality. He loves to cuddle with his people, and he tolerates dogs well. Pete is 9 years old. He is being rehomed due to allergies. Supplies will be included. Please offer Pete the loving home he needs and deserves today.
There is a $25 adoption/rehoming fee. All supplies will be included.
---
Location: San Diego, CA, 92160
Type of Pet: Cat
Breed: Tabby
Age: 9
Color/Coat Type: Orange
Size: 21.6lbs
Health Issues: No
Behavior Issues: No
Pete is:
Neutered, Fully vaccinated, Litter Trained, House Broken
Pete gets along with:
Babies, Toddlers, Small Children, Older Children, Dogs, Cats, Small Animals, Strangers
Personality
He's very friendly and loving. He purrs when he's happy and likes to sleep with humans. He's vocal when it's time to eat. He tolerates dogs. He's very smart and responds to his name.
Food and Diet
Pete is currently on Other
Costco adult cat food. He eats a 1/3 cup of food in the morning and a 1/3 cup at 4pm. He likes cat treats too. He drinks lots of water.
Reason For Rehoming
My stepson moved in with us and is allergic to Pete. He is an indoor outdoor cat. He is current on his shots and overall healthy.
How to Adopt Pete
If you would like to consider offering Pete a loving, forever home, please fill out our Request To Meet A Pet form here:
http://pet-net.net/adopt-a-pet/
Once received, we will contact you to discuss your request and set up a mutually convenient time to meet Pete and their owner in their home.
https://www.allpaws.com/adopt-a-cat/domestic-short-hair/5757819