Ian and Mustang Sally – Adorable Year Old Bonded Cats Seek Loving New Home in Arkansas – Supplies Included
Meet Ian and Mustang Sally!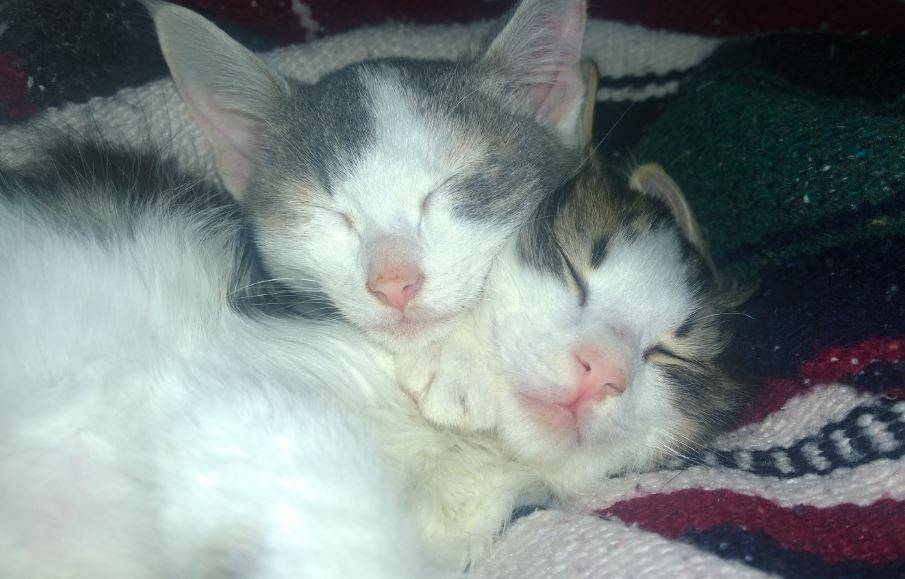 There is a $50 adoption/rehoming fee. All supplies will be included.
If you have been looking for an absolutely exquisite pair of purring machines, look no further. These two kitties are as unique as their names; Ian and Mustang Sally.
From their little pink noses to their fluffy white paws, these medium long hair Calicos are so divine. They love to snuggle together and are very closely bonded. They are playful and sweet, mischievous and adorable. They are very affectionate and love their humans. Absolute cuddle bunnies! They are located in Bella Vista, Arkansas, about an hour away from Tulsa, Oklahoma.
Both cats are just 1 year old and have been spayed/neutered, fully vaccinated and are microchipped. They have impeccable house manners, and always use their litter box.
As much as their owner loves them, his wife is very allergic to cats and is having some real problems as a result of them being in the home. He is dearly hoping to find a cat lover who will cherish them and offer them a safe, happy and healthy home.
Their ideal home will be one where they will get lots of love and attention. They are fine with respectful children and very cat-friendly dogs.
Please offer Ian and Mustang Sally the home they need and very much deserve today. This is a pair of cats that will purr their way into your heart instantly. They are so precious.
All About Mustang Sally and Ian
Location: Bella Vista, Arkansas, 72714
Type of Pet: Cat
Breed: Calico
Age: 1 yr.
Color/Coat Type: mixed / Maine Coon?
Size: 10 lbs
Health Issues: none
Behavior Issues: none
is:
Spayed, Neutered, Microchipped, Fully vaccinated, Litter Trained
gets along with:
Older Children, Cat Friendly Dogs, Adults
Personality
Loving
playful
likes to cuddle
like to purr
curious
mischievous
Reason For Rehoming
We have two cats (Male – Ian and Female – Mustang Sally) that my son took in with the stipulation that he take care of them and keep his room clean, he has done none of this. My wife allowed this to try to build a relationship with him knowing that she was very allergic. He has done none of what he promised and she is miserable. I have become very attached to the cats and they to me but I cannot allow my wife to suffer any longer (she is getting allergy shots and they are not working at all). On top of that this is the straw as far as my son.
If you would like to consider offering a loving, forever home, please fill out our Request To Meet A Pet form here:
http://pet-net.net/adopt-a-pet/
Once received, we will contact you to discuss your request and set up a mutually convenient time to meet and their owner in their home.