Hodo The LOVE Cat Seeks Family To Cherish Him – Seattle WA – All Supplies Included
Hi, My name is Hodo!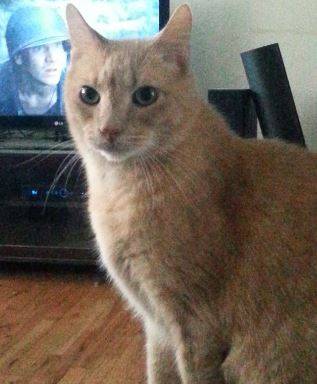 There is a $25 adoption/rehoming fee. All supplies will be included.
Hodo is SUCH a GREAT cat! He is one of nature's "designer cats", with a gorgeous orange sherbet colored coat and the most amazing green eyes.  Hodo has a personality to match his very handsome appearance. He's such a loving, good natured boy. Hodo gets along very well with dogs, children and other cats (as long as they are not territorial).
Hodo is just 10 years young. For cats, this is only "middle age", since healthy cats can easily live 20 years or even longer. Hodo is very healthy, and has been lovingly cared for by his family since he was a kitten.
As much as it breaks their hearts to do so, Hodo's owners need to find a new home for him. They have recently moved to Seattle and live in a very small space. They have a small child, and with no good spot to place Hodo's litter box, it's a very difficult situation. Things are cramped in their living space, and busy schedules and caring for a small boy have made it impossible to give this loving, people oriented cat the attention and care he needs and deserves.
Hodo's ideal home will be with people who have lots of time to spend with him. To brush and snuggle with him, respond to his sweet mews, and let him know just how much he is cherished. Hodo's owners will include all of his supplies. Hodo has been neutered, is up to date on shots, and very clean and well behaved.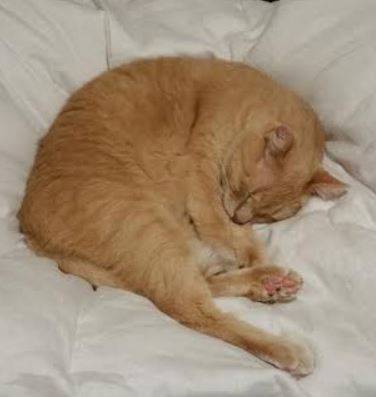 Please offer Hodo a loving, forever home today. He can't wait to meet you and show you that unconditional love comes in the form of an adorable orange tabby cat.
There is a $25 adoption/rehoming fee. All supplies will be included.
---
All About Hodo
Name of Pet: Hodo
Location: Seattle, Washington, 98105
Type of Pet: Cat
Breed of Pet: Orange Tabby
Sex of Pet: Male
Age of Pet: 10 years
Spayed/Neutered?: Yes
Health Problems: No
Up To Date on Vaccinations: Yes
Gets along with cats: Yes
Gets along with dogs: Yes
Good with Children?: Yes
House Broken or Litter Trained?: Yes
Crate Trained?:
Accessories Included: -Buddha Dome litter box
– two bags of pine
– brush
– carrier
Hodo's Personality
He's beautiful, friendly, easy to feed, nice to my little boy, and I love his meows.
Hodo's Current Home Environment
Small, fairly cluttered apartment. This is mostly what he has lived with in the past as well.
Hodo's Current Family:
We are husband, wife, dog (collie/golden mix), and 18-month old toddler. We are very, very busy, which is part of the reason we want to rehome Hodo. All of us also live in this 850sqf apartment.
Hodo's Favorite Toys, Foods, Activities?
He likes ribbons that are left over from holiday presents, string, and little balls. He generally does not respond well to expensive toys.
Cute Hodo Story:
When we were driving out to Oregon from Minnesota many years ago, we had a minivan filled to the brim with stuff. For a while I decided to let Hodo out of his carrier so he could cuddle in the van somewhere and maybe be a little more comfortable. As I was driving, I saw him sitting on top of a bunch of stuff in the back and he was panting, just like a dog! I thought it was the cutest thing ever, and told my wife, and we both thought it was just precious. Then, we Googled it, because we wondered why we had never seen him do that before. Turns out, he was extremely overheated and we needed to cool him off and put the air on. We went to a rest stop and there was a little stream, so we brought him down there and he walked around in the water, almost like a little lion! He really enjoyed cooling off.
Why is Hodo Being Rehomed?
More than anything it is just the feeling that we don't have the necessary time and and space. Time, in the sense of giving him the attention he deserves – this is because of family and work schedules. Space, in the sens that our home is really, really, small, and we just can't keep the baby away from the kitty litter area, so it's not sanitary. This is why it is relatively urgent, as we have literally no other place where we could put the litter.
Hodo's Perfect Adoptive Home Will Be:
Hodo's ideal home, in my view, would be with either an elderly person who needs the companionship, or with a person is home-bound. He is also an older cat (even though in great shape!), so he should ideally be with a family that does not expect him to play like a kitten. He must be INDOOR, as he has no experience being an outdoor cat. He is actually great with children though. We would love to see him go to someone who really needs the companionship.
Additional Comments:
We don't necessarily want to 'stay in touch', but we wouldn't mind being able to maybe follow up in the future just to see how he's doing. He's been a great cat!