Handsome Henry – Luscious Maine Coon Mix Seeks Loving Home in Denver – Supplies Included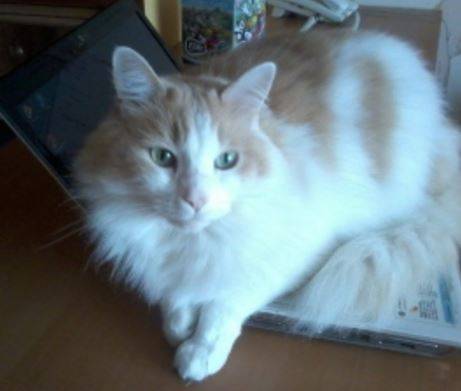 Henry is one of those cats that make you marvel at the beauty of nature. This fluffy, gorgeous purring machine is so handsome! He is clearly part Maine Coon, with the size and tail to prove it! He is dilute orange and white in color with amazing green eyes.
Henry is just 9 years young. He is very healthy and has been neutered and is up to date on his shots. Veterinary records will be provided. Henry is a BIG boy at 17 pounds.
Henry has a wonderful personality. He is a very loyal, loving and companionable cat. He loves to be where his people are, and loves to cuddle and receive lots of attention. He talks, too!
Henry is not really keen on small children. They make him nervous and he will hide from them. He loves adults and calm older children who know how to treat cats.
Henry's owner loves him soooo much. She is heartbroken to have to find him a new home, but health issues and living arrangements have made it impossible for her to continue to provide the home that Henry needs and deserves. She is hoping to find this sweet boy a wonderful home where he will be cherished, and kept safe, happy and healthy for the rest of his days.
If you would like to offer Henry a home, the first step is to request to meet him, along with his owner. You can fill out our online request form below. Once received, we will contact you to discuss your request and set up a mutually convenient time to meet Henry and their owner in their home.
There is a $75 adoption/rehoming fee. All supplies will be included.
If you have questions about Henry, please email Debbie Moore (findmypetahome@gmail.com) for more information.
---
Hi, My name is Henry!
Location: Denver, CO, 80237
Type of Pet: Cat
Breed:
Age: 9
Color/Coat Type: Orange/White Heavy Coat
Size: 17 lbs
Health Issues: No
Behavior Issues: No
Henry is:
Neutered, Fully vaccinated, Litter Trained
Henry gets along with:
Adults Only
Personality
Loves to give and receive attention. Cooperative and loyal cat. Wonderful, loving cat who makes for a great companion. Will cuddle and seek strokes.  Do not know how he would interact with other animals, but he loves companionship and hope he would do well. Best cat ever and he deserves a good loving home.
Reason For Rehoming
Health issues and my housing is temporary.
If you would like to consider offering Henry a loving, forever home, please fill out our Request To Meet A Pet form here:
http://pet-net.net/adopt-a-pet/