Happy – Sweet Young Siamese Cat Seeks Loving Home Due to Severe Cat Allergies – Los Angeles, CA
Hi, My name is Happy!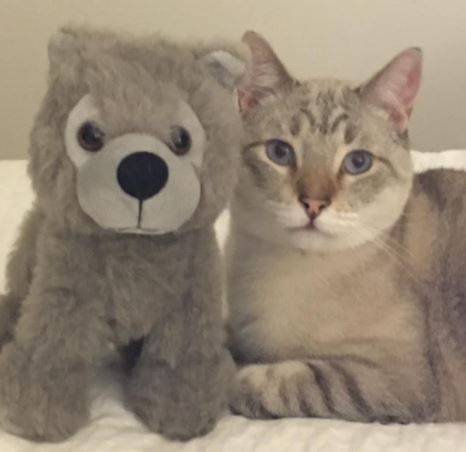 Are you looking for the most loving and exquisitely beautiful cat in LA to add love, joy, companionship and plenty of purring to your home? Meet the aptly-named Happy!
Happy is a 3 year old Siamese cat with amazing blue eyes and a personality that will melt your heart. He is sweet, playful and very talkative. He follows you around the house and greets you at the door just like a dog.
Happy is mellow and gentle  He gets along well with children and is fine with other cats, as long as they are accepting of him.  He loves to play with feather toys and string, watch birds from the window, and keep you company, no matter what you may be doing.
Happy is being rehomed by his owner, who is devastated to have to make this very difficult decision. Unfortunately, his new stepchildren have severe cat allergies. They have tried their very best to find a way to manage this, but the allergies have continued to get worse. As much as he will miss Happy, he is dearly hoping to find this beautiful, friendly cat a loving, forever home where he will be cherished and kept safe, happy and healthy.
If you would like to offer Happy the loving home he needs and very much deserves, please fill out our online information form. Once received, Happy's owner will contact you to arrange for a mutually convenient time to meet.
There is a $75 adoption/rehoming fee. All supplies will be included.
---
All About Happy
Name of Pet: Happy
Location: Los Angeles, California, 90065
Type of Pet: Cat
Breed of Pet: Siamese
Sex of Pet: Male
Age of Pet: 3-4
Spayed/Neutered?: Yes
Health Problems: No
Up To Date on Vaccinations: Yes
Gets along with cats: Yes
Gets along with dogs: Unknown
Good with Children?: Yes
House Broken or Litter Trained?: Yes
Accessories Included: Carrying case and litter box
Happy's Personality
cute blue eyes
outgoing personality
very affectionate
greets you when you come home
very well tempered
Happy's Current Home Environment
active family home
Happy's Current Family:
There are three of us, two adults and a 13 yr old. Busy and on the go, would love to have more time for the cat.
Happy's Favorite Toys, Foods, Activities?
Eats very basic food, Trader Joe's brand. Will eat any kind of snacks. He loves chasing his laser and bird on a stick.
Cute Happy Story:
He greets us at the door when we get home with lots of affection and meows!
Why is Happy Being Rehomed?
I recently moved in with my partner and her daughter has severe cat allergies. We have given it some and they don't seem to be dissipating.
Happy's Perfect Adoptive Home Will Be:
I think a home in which he has companionship would suit him best. He thrives on attention.
Request to Meet Happy Here
Oops! We could not locate your form.