Small Cuddly Tuxedo Cat Seeks Loving Home in Denver – Supplies Included – Adopt Figaro Today!
Hi, My name is Figaro!
[button link="http://petrehoming.net/adopt-a-pet" size="large" align="center" target="blank"]REQUEST TO MEET FIGARO HERE![/button]
There is a $25 adoption/rehoming fee. Supplies will be included.
---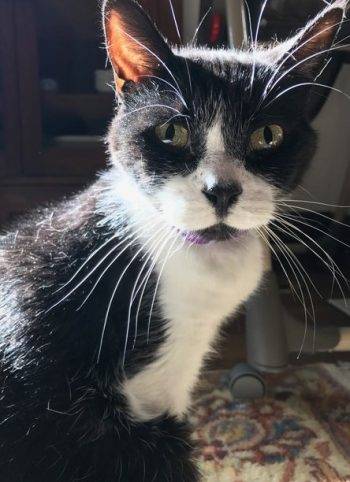 Figaro has been becoming noticeably stressed as a result of having two small kids in his home, and another on the way. Like many cats, todders and babies terrify him. He does not know what to expect from them, or what is going to happen next, and it has caused Figaro to feel that he is constantly in danger.
Figaro's owners love him so much. I response to his anxious behavior, they have had to keep him in their downstairs bathroom and just let him out when the kids are napping. This is not a good situation for this very social, affectionate cat, and his owners worry about his wellbeing.
They have reached the very difficult and tearful decision that placing Figaro in a quiet home where he can be free of his fears will be the best sitation for him. They are dearly hoping to find Fig a home without small children or other stressors where he can feel safe and happy.
This is an extra special cat who will provide his new owners with so much love and companionship. He will be rehomed with his supplies, and is up to date on vet care. All you need to add is a safe, predictable home environment and lots of love.
Please offer Figaro the loving home he needs and very much deserves today. He can't wait to purr his way into your heart!
---
ALL ABOUT FIGARO
Location: denver, co, 80206
Type of Pet: Cat
Breed: Domestic short hair
Age: 9
Color/Coat Type: black and white tuxedo cat
Size: 8 pounds
Health Issues: no
Behavior Issues: anxious around small children and babies.
Figaro is:
Neutered, Microchipped, Fully vaccinated, Crate Trained, Litter Trained, House Broken
Figaro gets along with:
Adults Only, Dogs, Cats
Personality
Figaro is a sweetheart! He loves attention and ear rubs. He is a quiet little guy, but very loving. He is timid at first, but warms up quickly to everyone. He just likes to assess new situations before trusting them. He has a cat brother who he gets along well with, and has lived with dogs in the past. He is the cutest little man ever with his little black nose!
Food and Diet
Figaro is currently on Other
royal canin urinary SO
Fig gets dinner at 6pm where he received 1/2 a cup of dry Urinary SO and one spoonful of wet food (trader joes brand)
Reason For Rehoming
Fig's anxiety and stress level has become unmanageable, and I just don't think it is fair to him to live like this. He needs a quieter environment so that he can begin to enjoy life again. I have just found out I am pregnant with my 3rd child, so our household will not be calming down any time soon!
How to Adopt Figaro
If you would like to consider offering Figaro a loving, forever home, please fill out our Request To Meet A Pet form below. Once received, we will contact you to discuss your request and set up a mutually convenient time to meet Figaro and their owner in their home.
[button link="http://petrehoming.net/adopt-a-pet" size="large" align="center" target="blank"]REQUEST TO MEET FIGARO HERE![/button]